Planning on proposing or doing an engagement photoshoot at Old Westbury Gardens? Is Its not as simple as you think! Did you seach "Old Westbury Gardens photography permit" and land here? If so, you're already a step ahead of most couples! I'm glad you're doing your homework. Well, the answer is, be prepared for some HEFTY fees! You may be paying more in permit fees than you do for your photographer!
For a weekday session, they charge a permit fee of $175 for 90 minutes. If you have more than 10 guests (up to a maximum of 20), its an additional $25 per person! Now, here comes the real kicker… that's only for weekdays between 10:30am to 4:30pm – which are the worst hours for outdoor photography! Photographers want to avoid that midday overhead sun, as it is the least flattering light for both people and scenery. Isn't it a bit ironic to pay for location because you think its beautiful, yet you're only allowed to do so when it doesn't look good because of the sun's position? It can be difficult to overcome the unflattering sunlight on the subjects themselves with lighting gear (especially when they have regulations that restrict the use of tripods and light stands) but the actual scene behind you – the one your paying for – cannot be altered with lighting gear! Ideally, for any outdoor photoshoot, you want the sun to be lower in the sky, so we'd want to schedule in the early morning or late afternoon. So you pay $175 to get the location looking at its worst!
What if you want to access the gardens when their shining in their best light… after 4:30 pm? Well, actually, they will allow you to obtain a permit for after 5pm, but they charge $325 for it!!! So even if you're willing to pay outrageous fees, be sure you're not doing your engagement or proposal photoshoot between November 8th and March 31, because they are closed! Even "in season" they have a number of "blackout dates" where permits are not available either, and its also first come, first served, with permits, so if someone else takes the date first, you're out!
As if that isn't enough, there are also strict cancellation policies. You must cancel at least two weeks in advance. Even with rain, you've got to cancel at least 24 hours in advance – and we all know forecasts are 100% accurate! LOL! There's no waiting it out that morning to see if it clears up. They will refund if you follow the rules, or you have an option to postpone – but that means again making sure your new date is available and you grab it first, as long as its in-season.
So, the way I see it – and wouldn't you agree? – That's a whole lot of money that could have gone towards your beautiful portraits, instead of paying for a location. Instead of having to deal with all the restrictions and regulations, or forfeiting the best time of day for your photoshoot, I always recommend a local outdoor location where you're free to roam the grounds and take pictures according to the best light and the best background available, rather than according to arboretum rules. And did I mention not just free to roam, but literally FREE period?!!!
Yes, occasionally people want to go to Old Westbury Gardens, Planting Fields Arboretum, Bayard Cutting Arboretum, Bailey Arboretum or other botanical Gardens on Long Island, because those particular locations have sentimental value to the couple. They are quite beautiful, at the right time of day, so I see why you might have originally thought to do your photoshoot there. But once you realize all the restrictions and lack of freedom that can prevent us from creating the most beautiful images of you, then you might want to weigh the options of sentimental value vs. the value of those hundreds of dollars instead invested into the additional photos from your proposal or engagement photoshoot.
Long Island is a beautiful place for an outdoor couples photoshoot, so I always like to save my clients unnecessary fees so they have more to spend on the actual photographs that will adorn their walls for a lifetime! Please feel free to reach out to me for more info or check out our Pricing Guide and receive our free tips on how to assure yourself the most successful photoshoot!
I'd love to work with you to create amazing images for you to cherish for a lifetime!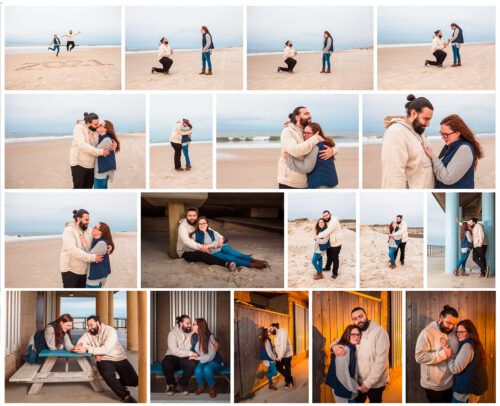 Schedule your FREE CONSULT to learn more about our engagement photography photoshoots!